Wildlife photographer Dafna Ben Nun captured a scene that looks to be straight out of The Lion King. On a recent trip to Zimbabwe, Ben Nun 38, snapped the photo of a mother baboon lifting her baby to the sky. The photo looks like it is recreating  iconic "Circle Of Life" scene where Simba is lifted high above the African planes by Rafiki.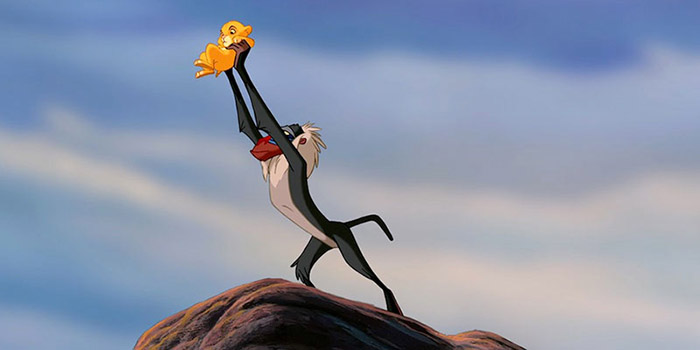 Credit: Disney / The Lion King
Dafna, shared the photo on her Facebook page along with others from her trip.
"I couldn't believe it when I saw an adult baboon holding a baby, looking exactly like Simba in the Lion King," she said.
Suzanna, co-owns and publishes the newspaper Times Square Chronicles or T2C, as well as encouraginggoodnews.com. At one point a working actress, she has performed in numerous productions in film, TV, cabaret and theatre. She has performed at The New Orleans Jazz festival, The United Nations and Carnegie Hall. Currently she has a screenplay in the works, which she developed with her mentor and friend the late Arthur Herzog. email: suzanna@t2conline.com
×
Suzanna, co-owns and publishes the newspaper Times Square Chronicles or T2C, as well as encouraginggoodnews.com. At one point a working actress, she has performed in numerous productions in film, TV, cabaret and theatre. She has performed at The New Orleans Jazz festival, The United Nations and Carnegie Hall. Currently she has a screenplay in the works, which she developed with her mentor and friend the late Arthur Herzog. email: suzanna@t2conline.com